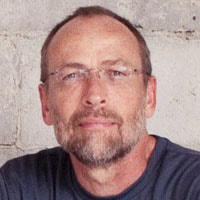 ​
About the Artist
I grew up in
Berlin
during the early years of the cold war era. Even at those times
Berlin
was a vibrant and lively city filled with art and creativity. Early in my childhood I spent much time drawing, mostly cars and airplanes. It was a way of expressing my dreams of imaginary worlds.
Finishing high school I was trained in photo retouching and attended the
Hochschule der Künste in Berlin
, I earned a degree in Visual Communication.
During the years I was confronted with major philosophic questions regarding the meaning and purpose of life. I found my answers in the revelation of Christ's life on earth, death on the cross and his resurrection to eternal life as our savior. This major shift in my life determined a completely different route in my life than I anticipated.
I worked for nine years as an artist with a missions work in Germany. I got married to a wonderful American girl and moved to the U.S.A. in 1987.
Since then I worked as a free-lance illustrator, fine art painter and designer at
Dayspring
and
Hallmark Cards
. Since 2001 I have been teaching
art
at the
John Brown University
and the
Savannah College of Art & Design
.